By Jamie Mason And Jaewon Kang | Published June 10, 2014 at 9:43 AM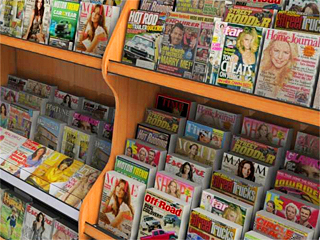 Source Interlink Distribution LLC has filed a Worker Adjustment and Retraining Notification Act notice with the Florida Department of Economic Opportunity that it will be letting go 165 employees between now and Aug. 29 as part of the shutdown of its magazine distribution business, but the company said nearly 6,000 workers will feel the impact of the closure.
The Bonita Springs, Fla.-based company ceased operation on May 30 after Time Inc. stopped doing business with it.
Source Interlink is winding down with the help of a chief restructuring officer, according to the company's chief administration officer, Stephanie Justice said.
While she declined to name the CRO, a Florida newspaper, the Naples News, identified Stephen Dubé, a senior managing director at FTI Consulting Inc., as the person in the post. Dubé and FTI Consulting declined to comment.
Through a restructuring last year, Source Interlink Cos. was split into two companies–Source Interlink Media and Source Interlink Distribution. The media company, which publishes magazines, recently rebranded itself as TEN – The Enthusiast Network. The Source Interlink Distribution situation has no impact on TEN, which continues to operate, Justice said.
Despite the number mentioned in the Florida WARN Act filing, she said that 6,000 employees would be effected, with approximately 1,200 being full-time and the remainder being part-time personnel. A small group of people, about 80 employees, were retained to assist the Source Interlink Distribution CRO during the winddown, Justice added.
"When Time notified them that they were pulling out, that's when they lost all of their funding," said Kevin Kamen, the CEO of print media brokerage firm Kamen & Co. Group. "It never pays to have all of your eggs in one basket."
Time, likely Source Interlink Distribution's largest customer, disclosed in a May 25 filing with the Securities and Exchange Commission that it had discontinued sales of publications to the wholesaler effective immediately after Source Interlink Distribution failed to pay $7 million in receivables that it owed the company.
Time also said that it wouldn't be able to collect another $19 million from Source Interlink Distribution, either.
Time has moved its magazine distribution business over to TNG, formerly known as The News Group.
Time said it expects that it will take approximately 6 weeks to 12 weeks for the new distributor to fully ramp up its distribution capabilities to cover the additional retail outlets.
A spokeswoman for Time didn't return calls for comment.
"The magazine distribution business has consolidated down to two major players now," said Carl Salas, an analyst at Moody's Investors Service Inc. "The two major players are The News Group, which is the largest, and Hudson News, which is number two. Source Interlink was number two in the industry before they shut down their distribution arm. Another big player went bankrupt years ago, Anderson News LLC."
(Anderson News was forced into Chapter 7 involuntarily on March 2, 2009, by a group of publishers. The case was converted to a voluntary Chapter 11 proceeding on Dec. 30, 2009. The company ceased its business operations on Feb. 7, 2009, and began to liquidate.)
"With just two major players now in the industry, the question is how will this impact pricing on distribution going forward," Salas said. "How does the negotiating leverage among the publishers and distributors change?"
While Salas couldn't comment specifically on Source Interlink Distribution and its magazine or distribution segments, he said that magazine distribution is a low-margin, competitive business.
"The overall volumes are declining because of the decline in print publications," Salas explained. "When there are declining volumes in print media, there are declining distribution needs, so there has been a squeeze on margins. There has been a decline in the business over the last 20 years. In any declining business you have consolidation. It's similar to what we have seen in directories and newspapers."
Industry watchers said that it's unlikely that Source Interlink would sell its distribution unit.
"It doesn't sound like they're trying to attract buyers," said Kent Zimmerman of Zeughauser Group, a legal industry consulting firm.
He said Source Interlink probably won't invest in the distribution business but will dissolve it instead.
If Source Interlink does want to sell the unit, though, it will have to look for buyers quickly, said Kamen & Co.'s Kamen. He said the longer the distribution business stays closed, the less valuable it will become.
But Kamen questioned the value of the unit even in a quick, attempted sale.
"It's not going to be worth anything anymore," he said. "They've damaged the product. Chance of them selling it off quickly, I'd say is 50-50."
The distribution business has two assets, retail accounts and handling equipment, according to John Harrington, a partner at a media consulting firm called Harrington Associates LLC.
Retail accounts refer to sale history information, such as number of delivered copies. Handling equipment include trucks and other tools that are used in the distribution process.
Of the two, Harrington said retail accounts are more valuable because they would allow the buyer to create prospective sale profiles. Equipment value, meanwhile, is determined by whether they are leased or owned by Source Interlink. Players in the distribution business also tend to carry similar equipment, he explained.
Harrington noted that he's not sure whether a sale is going to take place. But he said TNG is best-positioned to purchase most of the unit's assets if it does hit the auction block.
In the meantime, the other former Source Interlink Co. operation, TEN, publishes niche magazines, such as car titles that include Hot Rod, Motor Trend and Truckin'. But things are looking gloomy on the editorial front, too.
Trade publications, Zeughauser Group's Zimmerman said, have been hit particularly hard by changes in the media industry due to low capital investment.
Kamen, for one, believes TEN will end up having to sell these publications. If they do become available for sale, he expects there to be an interest.
"I don't see anything good on the horizon for [TEN]," he asserted. "Their future is pretty much doomed."
Lee County, Fla., is also trying to recoup $250,000 back from Source Interlink Distribution, Lee County Attorney Richard Wesch said in a phone interview.
He said he met last week with Dubé and other company officials, but they said they were not authorized to speak on behalf of Source Interlink, Wesch said.
According to a letter sent by Wesch to Source Interlink on June 2, Source Interlink received the $250,000 under Lee County First Incentive Award agreement on May 14, 2013. The agreement requires the company to maintain and create jobs in Lee County.
Source Interlink Cos. filed for bankruptcy protection on April 27, 2009, in the U.S. Bankruptcy Court for the District of Delaware in Wilmington. The company blamed its bankruptcy filing on the fact that it was about to breach covenants on the debt it took on to acquire Primedia Enthusiast Media in May 2007 for $1.2 billion.
In that deal, Source Interlink Cos. acquired a slew of special-interest media including magazine titles such as Motor Trend, Soap Opera Digest, Snowboarder and Hot Rod.
Source Interlink Cos. had originally planned to pay off the acquisition debt through revenue generated from the acquired business, but the deal turned out to be ill-timed, as the economic downturn sapped the company of valuable advertising revenue and caused Source Interlink Cos. to miss its cash flow targets by a wide margin.
The company filed for Chapter 11 with a prepackaged reorganization plan that took the company private and wiped out Ron Burkle's Yucaipa Cos. LLC's stake in the company. Yucaipa affiliate AEC Associates LLC held 48% of Source Interlink Cos.
The company's bank lenders swapped their debt for equity in the reorganized company, through the plan, which was confirmed on May 28, 2009. The company exited from Chapter 11 on June 19, 2009.
Source Interlink Cos. sold Alliance Entertainment Corp., a CD and DVD distributor, to a Platinum Equity LLC and the Gores Group LLC in 2010 for an undisclosed amount. The company acquired Alliance in 2005. Platinum and Gores have sold Alliance on Sept. 5, 2013, to music and video wholesaler Super D.
Data provider Bloomberg News listed $210 million in debt on Source Interlink Distribution's most current balance sheet. The company has a $110 million first-lien term loan priced at Libor plus 500 basis points due Oct. 4, 2018. It also has a $100 million first-lien term loan priced at Libor plus 675 basis points maturing April 4, 2019. Cortland Capital Market Services LLC is the administrative agent on the debt.
Calls to Cortland Capital weren't returned.
Source Interlink Distribution's Justice wouldn't comment on the company's debt or financials.
According to Source Interlink Distribution's website, asset manager GoldenTree Asset Management has an undisclosed ownership stake in the company.
Calls to GoldenTree were not returned.